50% of restaurant operators believe guests would enroll in every loyalty program made available to them, but only 27% of consumers say they actually do,  23% rarely join and 49% only sign up to select relevant programs

(

Oracle Hospitality

)

Millennials are more likely to belong to a food and beverage loyalty program than the total population: Millennials 46%, a total survey was 36%

(

Hawk Incentives

)

47% of restaurant operators believe their loyalty program offerings are mostly relevant but only 27% of consumers share that opinion and another 27% say offers are rarely relevant

(

Oracle Hospitality

)

30% of millennials plan to sign up for every restaurant loyalty program, while 48% of baby boomers say they will only enroll in select, relevant programs

(

Oracle Hospitality

)

76% of restaurant guests note immediate benefits are more appealing than accumulating points

(

Oracle Hospitality

)

73% of restaurant guests note a single loyalty program that can be used at a range of brands is appealing

(

Oracle Hospitality

)

41% of restaurant guests would submit a YouTube review in exchange for a reward

(

Oracle Hospitality

)

72% of restaurant guests like loyalty programs where points are automatically redeemed

(

Oracle Hospitality

)

58% of restaurant guests would exchange personal details for personalized promotions

(

Oracle Hospitality

)

88% of consumers note redeeming loyalty points on new food recommendations based on purchase history as appealing

(

Oracle Hospitality

)

38% of restaurant customers are most loyal to brands that they have a high opinion of

(

Oracle Hospitality

)

50% of customers say it's important they can engage with new and exciting menu items from restaurants they are loyal to

(

Oracle Hospitality

)

36% of restaurant guests will typically stick to the brands they like rather than shop around

(

Oracle Hospitality

)

58% of customers would always shop around for different restaurants to eat at

(

Oracle Hospitality

)

An article in Restaurant Business maintains that

"The stats are in: Consumers are upping restaurant delivery."

86% of consumers are using off-premise services at least monthly. And a third are using it more than they did a year ago…

…Food delivery, in particular, is projected to grow in the double digits – 12% per year over the next five years…

…The result is incremental sales growth for operators who can provide the optimal food delivery experience.
13 Rules to Customer Satisfaction using the Two-factor Secret Formula
Blurb: Want to know the secret behind satisfied customers? Read our 13 thumb rules about the roadmap you should be following to retain customers and make them happy. After all, Happy Customers make a business boom. 
Keywords: Customer service, customer experience, customer satisfaction,  business growth, success, sales cycle 
Imagine this scenario. 
You've recently bought a couple of products from two different companies, say company A and Company B. Company A provides a hassle-free return policy and also offers a free home pick up of the product you wish to return. Company B, on the other hand, has a customer care helpline that doesn't work half the time, they don't offer a return and well, they aren't that co-operative. 
Now, which company would you prefer, A or B?
Your customers are an integral part of the business. After all, they are the ones who avail of your services. Along with good customer service, it is important that your customers feel that you value them. Retaining your current customer base should be one of the top priorities of your business. 80% of your future profits are going to come just from 20% of your existing customer base, after all.
(link: https://www.slideshare.net/custthermometer/22-customer-retention-stats )
 So, how do you keep your current customer base happy and satisfied? 
The formula for success is an easy one. 
Credibility + Customer Service = Satisfied and Retained Customers
Why does credibility matter for retention?
Irrespective of what business you run, it's important that the people who carry out deals with you have faith in the quality of services you provide. Having the tag of credibility is all about establishing yourself as a business that delivers quality services and cares about the customer base they have. After all, this is what is going to help you drive your sales.
Credibility is going to help your business stand out from the numerous competitors in the market. Being credible can be having satisfied customer testimonials or it could be having proper reports about the performance of your product.
There are a lot many aspects to credibility but the bottom line is that credibility is something you can cash on in the future. Once you have the stamp of being a credible business, you're on your way to becoming a booming business.
Now that we know why credibility matters, how can your business achieve it? Use these 6 thumb rules to establish legitimacy to any organization: 
Businesses must be customer-oriented.

To gain the trust of your potential customers, including customer testimonials or reviews on your website. If possible, use audio or video testimonials instead of plain text ones. The aforementioned reviews can be faked and video testimonials help you look more authentic!

Your customer testimonials should be result-oriented

. Rather than saying "It's the best ever!" ask the customer to be specific, as in "conversion rates went up 10% overnight!"

Have a PR plan.

If your site has been featured in the news or on industry-leading sites, you already have a brownie point. Since these are genuine sources, ensure that you include the good press and their logo to establish authority. 

 

Ensure that there are consumer reviews

for the products you are selling. Consumer reviews are quite influential and are at times the deciding factor for a potential purchaser.  according to a study by Zendesk, 88% of respondents said their buying decisions were influenced by positive and negative reviews.

Optimize the website

. Optimize the credibility of information-oriented Web sites. Provide a useful set of frequently asked questions and answers (FAQs). Provide articles containing citations and references, and show the author's credentials. Ensure the site looks professionally designed. Provide an archive of past content (where appropriate). Maintain the website's content so that it is up to date. Make sure that links to outside sources are properly referenced, and ensure that all links coming to the site are from credible sources.

Include subscriber or social media follower counts

. Just like testimonials, including social proof helps substantiate the organization's presence, and thus increase conversions.
Start incorporating this first set of golden rules to bring credibility to your firm. Contact us at smartlybuilt.com *add in SB hyperlink* to see how we can help you boost your marketing even further.
And, now that you are a credible business, keep reading to see what you need to offer to keep your customers! By using these strategies to provide quality customer service you'll soon be set in the customer service department!
Easily accessible contact information.

Your customers are going to contact you because they are unable to resolve their issues on their own. So keep your "Contact Us" option in a visible position on your page and make it easy to find your contact email or phone number. For users that have a substantial number of queries, add a "Click to Call" option, so they have their issues resolved quickly and on-call. 

Add a Live Chat option within normal business hours

. You could also set up a Twitter account to address customer complaints. Customer service interactions have increased over Twitter by 250%. Also, answering a complaint on social media increases your customer advocacy by 25%. 

Build a stellar reputation.

Address complaints on time, keep a helpline number (toll-free if possible) and provide a satisfactory solution to your customers. This may seem like hard work but it's can cost you up to 16 times more to acquire a new customer, so it is a good option to keep the current ones happy.  (link:

http://www.conversionvoodoo.com/blog/2016/07/customer-retention-stats-studies-best-practices/

) 

Product clarifications.

Add FAQs for each of your products, wherever applicable. This saves your customer the effort of calling the helpline and minimizes the customer inquiries.

Follow-up and surveys.

Always check in with your customers after they have purchased a product from you. A quick email or short survey along the lines of "How is the product working for you? Is there anything I could help you with?" can go a long way. 
Your customers drive the sales of your products and services. There are a lot of facts and statistics available that predict why Customer Service is important, but the most significant point is that a loyal customer base is going to support you in the long haul. Your credibility will pull in new customers while your customer service will keep the current ones satisfied.
To summarize our earlier discussion in the simplest way:
Become a credible business in the market.

Offer incredible customer support when customers contact you. 
Your two-part success equation has one more supporting factor that will lead you to growth. It's Customer Experience! To read more about Customer Experience and how SmartlyBuilt does it, head over here *link to customer experience blog*
 Have any ideas, suggestions, or doubts? Feel free to drop us a mail here: *include link*  – the team at SmartlyBuilt would love to hear from you and support your dreams. 
2 P's of Customer Satisfaction
How do you make Customer Satisfaction turn in added revenue for your business? 
We've talked a lot about Customer Satisfaction now. We have discussed at length the importance of Customer Service (insert a link to blog) and also about the significance of being a credible business with good customer service in place. 
As a business that wishes to expand its growth, there are another couple of factors that are going to help you boost your sales process. 
We're talking about the 2 Ps of Customer Satisfaction.
We're talking about  Product Listings and Promotions. 
Wondering how these pair of P's will be an advantage to your business? 
Let's first jump into the first P – how to make sure your target market is seeing your product and your promotions!
Product Listings
Product listings are a part of the website's design process. The presentation of products on your website is an import factor. Don't be afraid to spice up your presentation to suit the theme of your business. Add in videos for the sales pitch of your products. Consumers are up to 85% more likely to buy a product or service after watching a video. 
(link: https://www.customshow.com/sales-statistics-presentation-data-youll-be-amazed-by/) 
Here are a few pointers you should keep in mind for designing your product design layout and a few more basic ideas:
Let users easily sort,

filter, and view columns of products or items per page to improve their overall browsing experience.

If your page contains multiple products

, allow customers to filter by size, color, style, and price via AJAX-enabled side navigation.

Add the option for customers to

read and leave reviews and ratings

for products. Consider offering a coupon or a reward for completing the review.

Make sure you're not creating a false sense of urgency

by telling users there are "only 3 left" when it's a digital product and that number won't decrease once they order.

Let customers know how much of an item is in stock through

real-time inventory updates

and if/when more will be ordered.

Live up to what you say.

If there are 5 left and the 5th has been sold, take down the offer. If the price goes up at midnight, make the price go up. No one likes a liar.
Now that you have the first 'P', let's get to the second one – the extremely important Promotions and Product Offers.
Promotions and Product Offers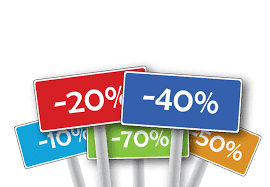 Don't we all simply love online sales? We have a tendency of believing "A penny saved is a penny earned." Just in 2017, Black Friday digital sales boomed with shoppers spending a record $5 billion during this massive sale period (http://money.cnn.com/2017/11/25/news/black-friday-holiday-shopping-foot-traffic/index.html)  So how can you ensure customers are headed your way as well? Our research has shown these 9 ways to most effectively promote your product: 
Design an engaging layout

for your Daily Deals Site.

Add an attractive guarantee offe

r. Test different types of guarantees. If the industry standard is 30 days, make yours 60 or 90. Don't be afraid to stretch the limits of what's possible.

Make promos easy to find

. If you have a coupon or promo code section on your site, make sure you've got something to go in it. People will go off-site to check for coupon codes.

Customers don't like

unpleasant surprises

. Don't spring hidden fees, long contracts, or other extra issues on customers once they begin checking out.

Offer a price-match guarantee

. While most people won't take you up on the offer, it helps convey that you're concerned about keeping your prices competitive.

Don't offer

too many options. When faced with too many choices, people may actually become paralyzed and completely avoid a particular task or decision. When possible, be very clear about who your product is for, or suggest which product is best for the majority of people ("Most popular choice").

The

refund policy

matters, especially online. Include a no-questions-asked refund policy on all purchases. This reduces risk, and increased sales will usually more than makeup for any returns.

Make

valuable use of your "Thank You"

page by including a coupon for their next visit and letting them sign up for notification of new sales on products that interest them.

Go beyond the holidays and

offer discounts or special promotions

for unusual reasons. Einstein's birthday? National tomato month? That's 20% off!

Meet the expectations of your PPC visitors

. If visitors are coming to your landing page via a PPC ad, make sure your ad copy is consistent with your landing page copy. Your ad should tell them exactly what they'll find once they click through to your site.
So with these proven methods, start instituting your own combination of promotions and offers. We would love to hear what worked best, so leave us a message below.

Well, now you know the 2 Ps of customer satisfaction. It's not that tough to keep them satisfied. The key to success lies in switching your perspective and trying to understand what you would want from a business as a customer. Ultimately that's how you will be able to raise your customer service standards, by putting yourself in your customer's shoes and caring about that experience. 
To review what we've talked about in this post:
Let your promotions be beneficial to your business as well as the customer.

Ensure that the navigation on your website is smooth, user-friendly, and visually attractive. 

Follow what you say to your customers and try to give them a trouble-free CX. 
Have an idea or a suggestion? Feel free to drop us an email here *insert link*